Thinking about giving crochet socks a go? Here are a few answers to common questions to help you out. We'll look at comfort, yarn and measuring to help you create crochet socks that you won't want to take off.
Why would I bother? Aren't they stiff and uncomfortable?
I hate to sound like that guy but "not all crochet socks" A lot of patterns for socks seem to be based too much on knitted socks and we know that crochet fabric does not behave like knitted fabric. To fit well, socks need to stretch to hug the foot. Plain stocking stitch knitted socks work because knitting has a lot of horizontal stretch. The same cannot be said for rounds of double (US single) crochet. Crochet has stretch vertically so the sock design needs to utilise this. Knitted socks tens to work at a very tight gauge to minimise wear and create a thicker fabric. If you work crochet at these tensions it will feel like walking on a million hard knots, luckily as we make a thicker fabric in crochet the fabric is already firmer so the gauge does not need to be quite so small. Crochet sock design needs to consider these differences between knitting and crochet to work and be comfortable. Luckily for you, all of The Crochet Project's sock designs do.
"What's the best yarn for socks? " 
The hope is that you'll want to wear your socks a lot and walk or move in them. As you move they will rub against your shoes or the ground so the yarn has to be pretty sturdy in order to take that punishment. Your feet aren't the most delicate part of your body so unless you have an allergy you can probably cope with a sturdier wool there than you might want around your neck.
A wool blend is the ideal fibre for handmade socks as wool is an elastic fibre that can stretch and return to shape, breathable and naturally wicks moisture away. Wool repels odour and is fairly self-cleaning so wool socks don't need washing very often, they can just be aired between wears. Washing as little as possible helps your socks last longer as the washing process contributes to the wear and tear too.
Lots of companies sell yarns labelled "sock" and these will have been specially developed to be sturdy. Generally these will be a wool nylon blend or made from a wool that is especially resistant to wear and tear.
If you are vegan or have a wool allergy, a man-made blend is probably going to be your best bet. A cotton blend may be suitable but bear in mind that cotton doesn't have as much natural stretch as wool does.
One of our favourites is Coop Knits Socks Yeah! yarn because it comes in a fantastic range of colours and was developed especially for knitting socks by our favourite knitted sock designer.
You can find a fuller discussion about yarns here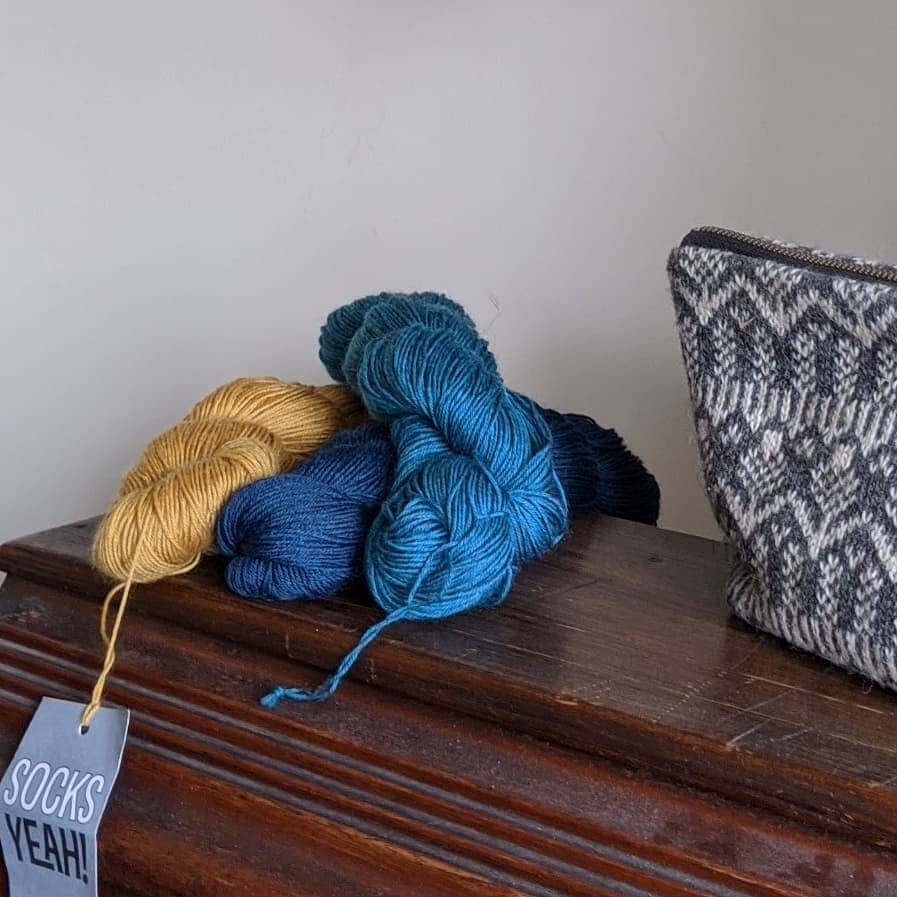 ​
Before you start you'll need to choose your size. You do this by measuring around the widest part of your foot and picking the size closest to or slightly larger than your foot size (or the size of the person you are making for) If you are making for someone else who you can't measure you can go by foot size: we have a handy chart in the patterns to help you chose the size. But measuring is always best if you can.
Now all good projects start with a swatch don't they? Are you sitting down? Because this is going to shock those of you that know me...
​
I don't think you need to swatch. Socks are teeny, a full swatch is as much work as the ankle/foot anyway so why not just make the ankle/foot? (Top down/toe up)  Be sure to stop and try it on though or you'll end up with something that might not fit. Its especially important to try on the ankle of a cuff down sock as you need to be sure it will stretch to fit over your instep.
Ready to get stuck in? Shop our collection of socks below