I'm about to share with you my most exciting discovery of the year (or possibly my career!)
In the past I've always used rows of half trebles in the back loop to make rib. It looks the part and it has really good stretch but it is somewhat reluctant to ping back into shape and stretches out over time. In an effort to find a better way I had a good experiment and have come up with a new method that has the elasticity I was craving.
​
My new way of doing it alternates wrongside rows of half trebles in the back loop with right side rows of a new stitch, I'm calling rib stitch. The rib stitch is what creates the elasticity as it lightly anchors the stitch into a previous row.
I'm almost certain I've invented this as I've never seen anything like it used before, but there is probably nothing totally new in such an old craft. Even so, I've found it, I've written it out so I'm calling it Joanne's Elastic Rib! I'm really pleased with it as it gives a lot of stretch and bounces nicely back to shape. I've used it for my latest sock design and plan on adding it to future patterns too.
Here's how you do it:
Start off by working three rows of half treble in the back loops (thats US half doubles) with the length of each row being the height you'd like the ribbing.
​
1/ The next row is a right side row and you are going to work all the way across in rib stitch. To start this, chain 2 and yarn over.

2/Insert your hook into the back loop only of the current row and what would have been the unused front loop of the row below (it's the top strand of what looks like the row of knit stitches)

3/ Yarn over and pull it back up through both of those strands. At this point you want to draw all the way up to the height of the new row, if you don't your piece won't have the desired stretch.

4/You've now got 3 loops on the hook just like with a half treble, yarn over and pull through all those loops. one rib stitch made.
​
Work in the same way across that row and then the next row work half treble in the back loop all the way across. Work all right side rows in the rib stitch and all wrong side rows in half treble in the back loop until the rib is long enough.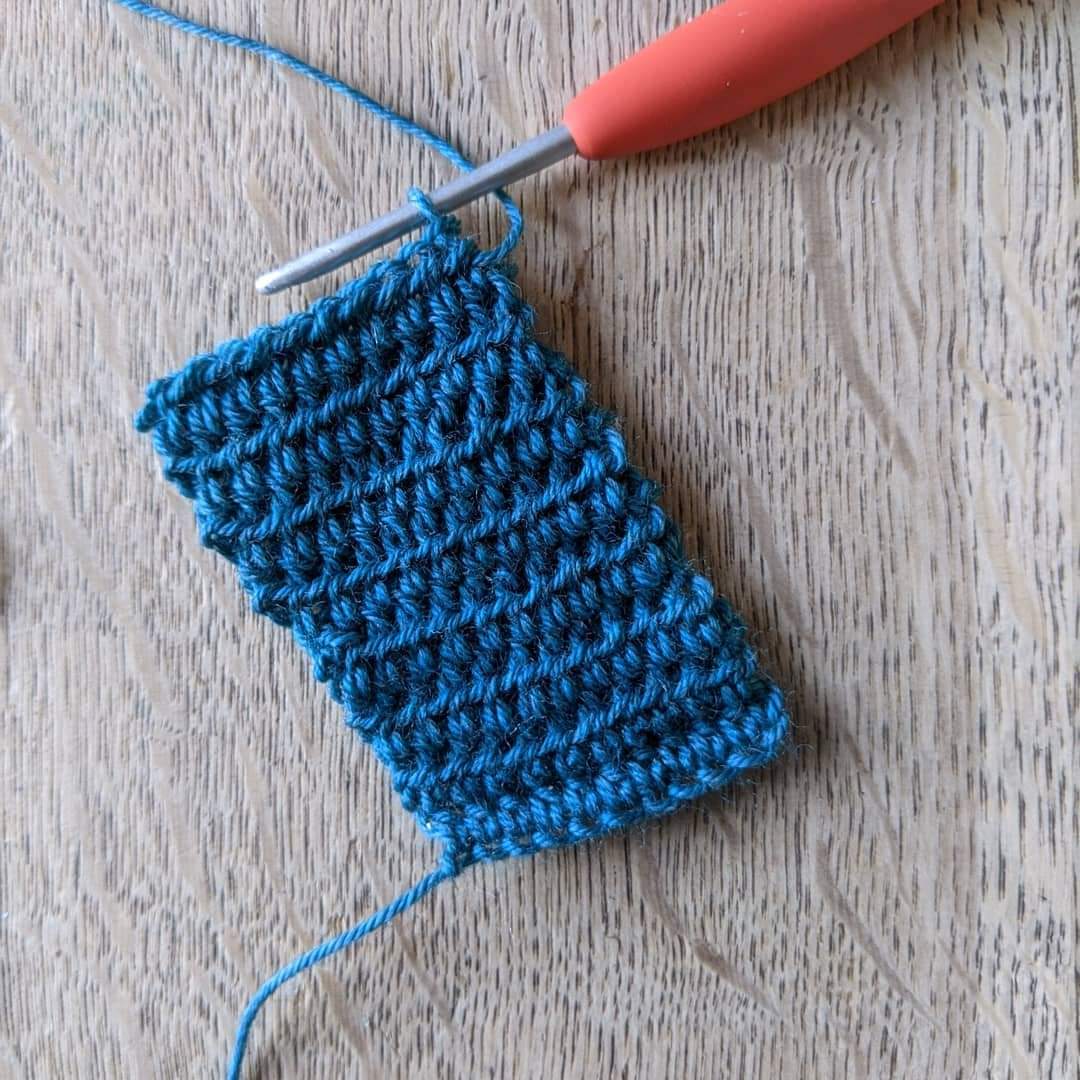 As you can see from the pictures it doesn't make a reversible rib like the rows of half trebles would but the solid fabric on the reverse side is rather comfortable to wear. You'll also notice a little bias to the fabric, this is normal and corrects itself as soon as you join and start connecting a body of a hat or an ankle of a sock to it.
⁠If you are finding the fabric you are making isn't very stretchy then try remaking it paying extra attention to lifting when you yarn over and pull through the two places you inserted your hook into the stitches to make the rib stitch. (as shown in the picture) At this point you want the loop to come up to the row height for the new row not to scrunch up the row below. ⁠You may need to experiment with hook sizes to balance the relaxed size with the stretch needed.
You can of course work this on to a garment or accessory as the finishing touch if you are doing a toe up sock or a top down hat, you'd slip stitch as you went in the same way you'd normally apply any ribbing that is worked perpendicular.
If the rib is to be closed to make a cuff then end after a wrong side row and fold it right sides together, slip stitch it closed inserting your hook though the foundation chain, and into the last and penultimate row as if you were making a rib stitch.

​
I think this technique offers a really good soloution to a problem that has blocked crochet being truly wearable, a really good stretchy rib. If you want to use it in your own published designs then please do, just give me a shout out in the pattern please.
Join the Hub or sign up to our Crochet Socks class if you'd like to see a left or right handed video of this technique (and a lot more besides)
Ready to give it a go? Here is a selection of hats and socks which could all have this technique used for the ribbing if you chose